No matter how smoothly a trade show appears to run, there is always a scramble for last minute updates & changes for professional events. As a vendor, trade shows tend to sneak up on you – leaving much of planning to the last minute. Sometimes this is just because you have an extremely busy calendar, other times you may be getting a last minute discount on a trade show booth because the host hasn't sold out all their inventory. Either way, last minute trade show planning can be done successfully – and you'll be the only one who knows just how tight the schedule was.
Now, we have talked about attending a trade show without a booth, but in this scenario, we are going to assume you've secured an actual location at the event. The most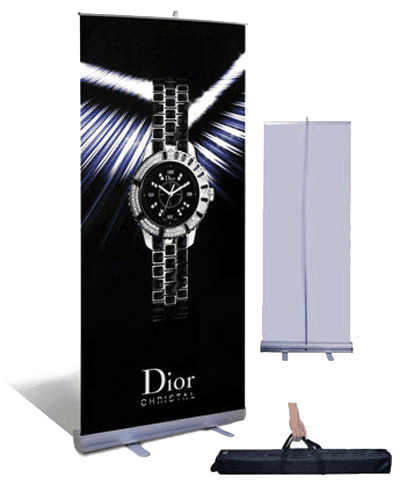 important detail that you need to figure out is who will be manning the booth. Your people power is far more valuable than any other resource you could ever print, but that being said…
You're going to need promo items for your business at the trade show, and you don't have much time to spend on design since they need to go to print immediately. Printing roll up banners that have your company logo, tagline and key selling points will make you look professional – and can be ready for the trade show just in time! A well designed banner can grab the attention of potential trade show leads from across the hall!
A Potential Client Approaches the Booth
Great, they saw your banner, and decided to come over to your booth – to learn more about your company. You may have only found out about the trade show a week ago, but you can look like you've been prepared for months with high quality promotional material to share with potential clients. Custom catalog printing that highlights your products or services, and includes pictures can help make your trade show efforts even more effective.
Pro Tip: Catalogs don't go bad. Print 2X the number that you think you need for this last minute trade show, so that you don't have to scramble the next time one pops up in your area.
The Trade Show is Just the Beginning
Your trade show staff should be able to gauge the level of interest from potential clients at the booth. Make sure that quality leads leave with you company business card and contact information so that they can get back in touch after the trade show. Don't worry, they'll never know that you were planning up until the last minute before the show!