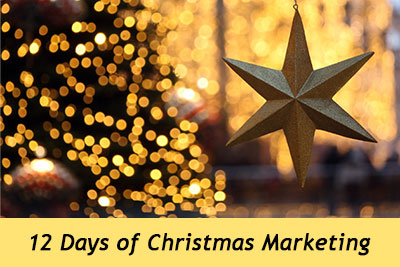 Have you checked your calendar today—Christmas is only 2 weeks away! Well, technically, it will be 2 weeks away on Wednesday. With all the excitement over Black Friday, Small Business Saturday, and your personal holiday plans, you may have lost sight of your end of the year marketing campaigns. Surely you've got your sights set on 2014, but this year isn't over yet! There's still time for a little last minute strategy session to improve your 4th quarter sales.
The 12 Days of Christmas Marketing
Everyone's familiar with the old song I'm referring to, which serves as our theme for last minute promotions. I put together 12 different ideas you can do as part of a larger advertising effort or use as standalone solutions from now till the 31st.
Social Media Guessing Games- Our friends at Western States Envelope and Label host a weekly Macro Monday photo contest on Facebook, and there's no reason why you can't do something similar for your fans or followers. Decorate your store and then post pictures showing a tiny part of the item. Ask your fans to guess what they're looking at every day until the 25th. Since this is a visual idea, you can utilize the concept everywhere, including Instagram, Twitter, Pinterest, and Google Plus. Western States sweetens the deal by offering candy to fans who guess correctly. Since it's Christmas, you might want to go bigger and offer a $25 gift certificate for your store to 1 weekly winner.
Celebrate Boxing Day- The day after Christmas isn't necessarily awash. Although the US doesn't officially celebrate this Canadian holiday, millions of Americans flock to the malls to return gifts they didn't like or take advantage of big sales. This would be the perfect day for you to send an email blast announcing your own special offers, which as buy 1 get 1 free or $10 off purchases over $50. The key here is not to try and make your deal better than the big retailers. Focus on adding value in a clear way instead of vague concepts i.e. 25% off.
Create Holiday Pin Boards- If you're not on Pinterest yet, then you're missing out on excellent source of traffic, consumer engagement, and yes, SALES! Studies show that Pinterest leads to more conversions (i.e. purchases) than other sites, such as Facebook. There are a few reasons why, but mainly it's because Pinterest users see the site as a way to discover new products and services instead of simply interacting with others. So have some fun and make a few special Pin boards for the holidays. Fill them with gift ideas, photos of happy customers in your store, delicious winter recipes, local events, etc. For more Pinterest marketing ideas, check out this article on the Intuit small biz blog.
Share Xmas stories and anecdotes on your blog- Storytelling pops up a lot in terms of content marketing. Basically, I'm suggesting that you add a personal touch to your company blog with articles that aren't necessarily business related. Your customers are people, too, and they buy from your store because they like the intimacy and supporting their community. Reinforce this on your blog by telling stories about Christmas past, how you helped a customer find the perfect gift, funny things kids have said while shopping with their parents, and things of that nature.
Send Thank You Greeting Cards- Today happens to be National Christmas Card day, and yes, there's still time to print greeting cards in time for the 25th. But I'm not talking about Christmas cards so much as personalized thank you notes. December 26th is also National Thank You Note Day, which makes sense seeing as how gift exchanges are usually over by that time. Get yourself a set of branded cards to mail to your clients as a token of appreciation for doing business with you all year. This keeps your company fresh in their minds, and they'll appreciate the kind gesture far more than an impersonal e-card or email.
Go local with EDDM- Every Door Direct Mail allows you to reach everyone in the neighborhood for a super low postage price. Rumor has it that USPS rates will increase in January of 2014, so now's your chance to test the waters for the cheapest price. If you get started today, your EDDM postcards will be ready to go to the post office on December 16th, which gives you a great opportunity to promote your end of 2013 sale.
Make a stress free zone for your store- Your customers are all feeling the stress that comes with the season. Mall shopping often triggers anxiety because of the crowds and noise, which is what makes your store a soothing alternative to the chaos. Put a couple of comfortable chairs or a love seat in your store along with inviting refreshments and cute decorations. A little mood music wouldn't hurt either, so long as you stick to mellow tunes. Then tape a sign to your front door or a window facing the street inviting passersby to relax in your stress-free holiday lounge. Of course, it's best to use multiple channels to raise awareness about this, so feel free to post pictures on social media, your blog, and via email.
Target last minute male shoppers- There is a degree of truth to the stereotype of frantic fellas rushing through the mall in a state of panic on Christmas Eve. Both men and women wait till the last minute, but men are notorious for procrastinating on shopping because they could be watching football! Instead of trying to entice them with early birth bargains, help them out with pre-selected gifts for the main people on their lists. Host a special men's night a few days before Christmas with plenty of gift suggestions for wives, mother-in-laws, kids, bosses, siblings, and anyone else they're likely to buy for.
Collect Christmas Wishes- Remember the paper chains you made in school? Cut strips of green and red construction paper to keep by the checkout counter in your store. Ask every customer to write down his or her Christmas wish to add to your chain. Take photos of the wishes and let your fans watch the chain grow on social media. Just make sure to obtain permission before you spill any secrets.
Chips for Kids and Teens- CHIPS for Kids is an annual toy drive sponsored by the California Highway Patrol. The PrintFirm family will be donating at the Canoga Park Wallgreens store, and we encourage everyone in the area to do the same. There are similar programs in other states, and organizers love support for local businesses. Tell your fans what you're doing and collect donations in your shop to drop off for them. On a side note, I specifically mentioned teens because they often get overlooked in the presents department. Little kids need toys, but don't forget about the 12-17 year olds in need!
Group stocking stuffers by the register- Don't just focus on big ticket items. Make it easy for customers to find cute trinkets or other small stuff with an in-house display full of impulse buys for everyone on their lists. This is a good place to put gift certificates for your store, too.
Give Small Gifts to Spread Holiday Cheer- Speaking of gifts, people can't get enough free stuff. Offer a free gift with every purchase, Facebook check-in, etc. You don't need to do anything major here. Bake homemade cookies, and wrap a couple in festive colored plastic wrap with a Christmas bow, for example. The point here is to give them something they would want and remember. In this case, presentation really counts, so be sure to pay attention to the packaging on whatever you decide to offer. Attach a business card or hang tag so they'll remember where the gift came from.