Halloween may or may not be a big advertising opportunity for your small business. If you're in the retail sector, you'll probably have a sale along with special seasonal items in your store. Other businesses and organizations may throw holiday parties or host spooky themed events with custom tickets. Whatever you're promoting, you'll probably want to fit full color flyers into your marketing budget. If you don't have a designer on hand or you're the one creating the artwork, these Halloween flyer templates will really speed up your workflow.
5 Halloween PSDs for Any Occasion
Halloween Party for Adults ($6)



Source
This fully layered PSD template comes print ready in CMYK color mode at 300 dpi. The versatile design would be suitable for a wide variety of gatherings for bars, restaurants, night clubs, and local businesses.
Kid-Friendly Party Design ($6)



Source
Halloween may be a kid's favorite holiday for one reason: free candy! If children will be attending your event, then your graphics should tell their parents that your event will be safe for little ones. The flyer pictured above features a cartoonish cover that's obviously geared towards small children. The design does not have anything scary on it, which is probably best unless you're organizing an event for teens.
Nightclub Event Poster or Flyer ($6)



Source
This club advertisement pack comes with an 8.3″ x 11.7″ poster version and a standard 4″ x 6″ postcard template. The artwork is the same in both sizes, which is important for consistent branding. They even clearly labeled a good place to put your logo.
Fall Festival Invitation ($6)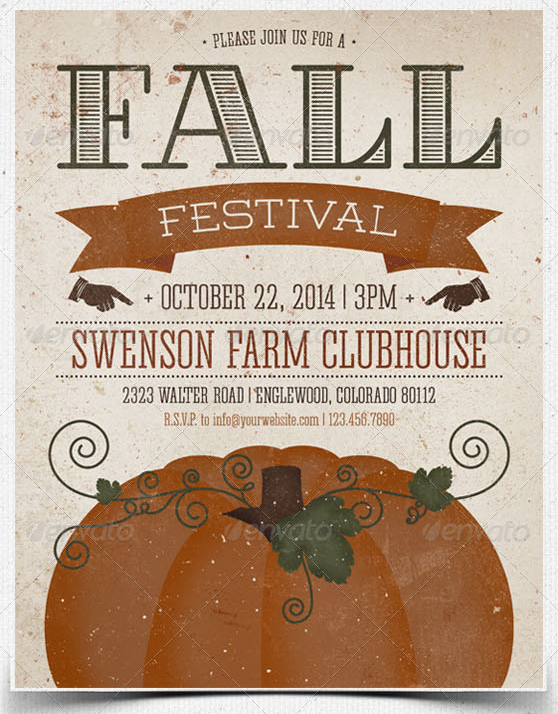 Source
Maybe you're not celebrating Halloween per say, but you're having an annual carnival or harvest party. This flyer and postcard combo invites guests with a clean, modern design that's more on the minimalist side. This typographic print would work for a religious group as well because of the simple artwork.
Church Fall Harvest Festival ($6)

Source
This 4″ x 6″ fall celebration flyer was made specifically for Christian churches. The beautiful leaves come in 2 different color choices and are free of any potentially offensive imagery.
Community Plans for October 2013
What kind of marketing campaigns are you planning for October? Do you want help finding a template that's right for your industry? Tell us what you want to see in the comments below!